Kevin Barry of Tombeagh, County Carlow, was executed just over one hundred years ago on the 1st November 1920 in Mountjoy Gaol, Dublin, for his role in the Irish War of Independence.
Kevin was just 18 years old when he was hanged, in what was the first execution since the 1916 Rising. Both these events lead to his death receiving near worldwide coverage. Last November, exactly one hundred years after of that fateful day, his nephew, Kevin Barry, along with his wife Evelyn and their daughter Niamh visited Carlow County Museum and in a private ceremony, laid a wreath to commemorate the anniversary of his execution.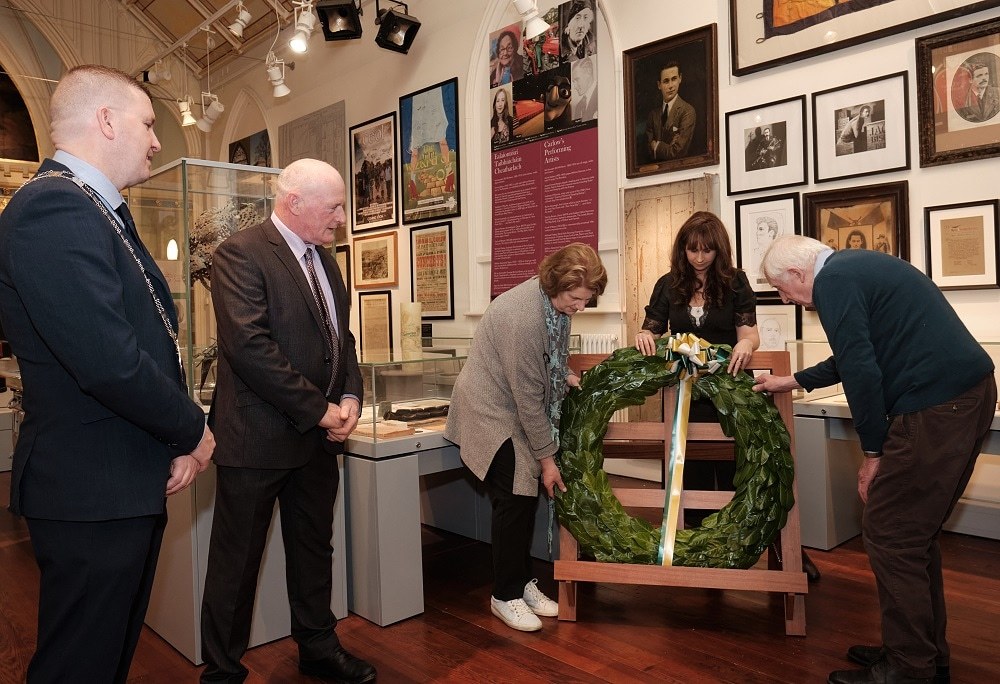 Since the 1980's Carlow County Museum has displayed Kevin Barry's wallet and the remains of the last cigarette he smoked in Mountjoy Gaol immediately before his execution by hanging. These belongings were returned to the Barry family after Kevin's death and remained in Tombeagh until his nephew, Kevin, presented them to the Museum. 
For this occasion, Ian Dowling, of 'Irish Pickers' television show fame and a descendant Kevin Barry, brought Kevin's Death Mask, which was placed beside the wallet and cigarette, for probably the first time that these items were together. The death mask was cast very soon after Kevin's death and Ian is a very proud owner of this historic item.
During this visit, Ian committed to very kindly agreeing to loan the Death Mask to the Museum, and earlier this week, some six months later, he returned to fulfil his promise. Ian was joined for the occasion, which, owing to the continuing COVID-19 protocols was a private affair, by Carlow County Museum Curator, Dermot Mulligan and Cllr.Ken Murnane, Chairperson of Carlow County Museum.
Reflecting on the provenance of the mask, he stated how he felt that fate had eventually led him to purchase it at auction some years ago and he also expressed his delight that the mask would now be on public display in a museum for the very first time.
The mask was then set into its display case along with an accompanying memorial Kevin Barry broach, also lent by Ian, and other Kevin Barry items and War of Independence artifacts. Overlooking the display case is an exceptional portrait painting of Kevin, which was presented to the Museum by Marie Comerford through Esther Purcell. 
Kevin Barry's death mask will remain on display in Carlow County Museum until May 2022.    
A short video about the loaning of Kevin Barry's death mask to Carlow County Museum
Chairperson of Carlow County Museum, Cllr. Ken Murnane commented "We are extremely grateful that Ian has agreed to loan Kevin Barry's death mask to Carlow County Museum for the next twelve months". He added "the mask, together with Kevin's last cigarette and his wallet on display to the public for the first time, brings a very human and poignant dimension to our understanding of this key period in our local and national history". Cllr. Murnane concluded by saying "now that Carlow County Museum is open to the public again, I'd urge everyone to come and view the unique Kevin Barry artifacts, and the many wonderful pieces in its collection".         
Carlow County Museum is delighted to welcome back visitors to its 4 galleries. Admission remains FREE however, as COVID-19 health and safety protocols remain in place for the time being, visits must be pre-booked until further notice. Visitors can book their place by phoning the Museum on 059-9131554 or emailing museum@carlowcoco.ie.
Further information about the Museum's opening hours, visiting slots and its COVID 19 health and safety guidelines are also available at www.carlowmuseum.ie
Unless otherwise stated, all images are © copyright of Carlow County Museum